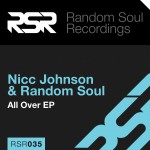 Random Soul have teamed up with underground house, Pacha touring artist Nicc Johnson for another corker collaboration. Their hugely successful EP on Chicago based label Large music in 2012 hit numerous charts and is still being rocked by many of the worlds leading DJ's.
This hot new EP is on the housier side, with 2 great explorations into their favourite deeper and classic style. Collaboratively worked on in Sydney between tours for all of the guys, this release is a worthy follow up and is sure to gain industry support again.
"All Over" is a simple yet groovy track, utilising a great bass line, mixed with chord swells and mystical vocal cuts. It's a deep house thing, and if you're into the deeper stuff, then this one is definitely going to work in your sets.
Lastly, the more driving of the 2 tracks is "Fly Free". An old school chord progression pushed this track along and helps to build it into an epic club track. This becomes a must for any Spiritchaser or Directors Cut lovers, and will leave a mark on any discerning club dance floor.
Coming soon to iTunes
Coming soon to Beatport
Coming soon to Stompy