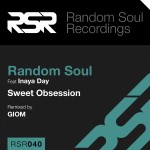 RANDOM SOUL stand tall with their house roots, and bring us another rock solid vocal release, this time featuring the incomparable INAYA DAY. 'Sweet Obsession' offers a moody bassline groove, vocal cuts and classic drums, all with their usual clean production for a modern twist.
In a tribute to their early sounds, they have offered 2 original versions, One with a more 'funky' piano riff, and the other with a more stripped, deeper feel. 2 great club cuts for the house heads.
Keeping the underground appeal going strong, they have snapped up one of the highest regarded remixers in the current deeper house circuit. French-born, London resident, GIOM, is no stranger to rocking a club track, and that's exactly what he has delivered on this remix. His usual bounce, combined with quirky vocal cuts and a hypnotic bass groove, has all the trimmings of an Ibiza classic. With the season just underway, this one's an essential for any day time or moonlight ravers.
Sweet Obsession packs a punch, and it's going to be that tune you can't put down. Get down on it!