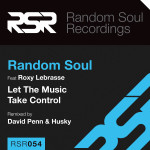 For the 54th release, we are incredibly excited to welcome back label bosses, Random Soul! They return with a huge new single featuring the vocal powerhouse, Roxy Lebrasse.
'Let The Music Take Control' is injected with funk and soaked in live bass, rhodes and guitars by Deutsch Duke. They all combine with a diva hook to turn this into is a classic house music lovers dream.
Not satisfied with the epic vibes on the original, the lads saw another angle and slowed things down to a disco pace. With a new live bassline and a sleazy-ass style, this one gets you riding high on the right horse.
The first remixer needs no introduction. He is one of the most respected and decorated house producers on the planet. We are so stoked to have the legendary, our favourite, David Penn on the remix. His remix is a total club banger, and that's all you need to know! Add it to your collection of Penn magic.
Finally, Husky takes a break from his own label, Bobbin Head Music, to offer his ever evolving trademark.
The package with everything is here. Buy it, play it, enjoy it.