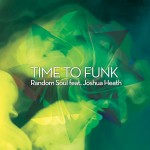 Welcome to the second single from the debut album from Random Soul, 'Live For The Moment'. Hailed as the funkiest hip shaker off the album, 'Time To Funk' pays tribute to the heads that don't mind a little funk and rap to kick start their Saturday night.
Featuring the creative vocals from LA's best known beat hustler, Joshua Heath combined with Random Soul's synth work and Will Farge's Tenor sax brilliance, This track is going to be shaking booties like the Fresh Prince of Bell-Air!
First up on the remixes is the talented Jay Vegas. Glitzy by name and by nature, Jay works this track into a peak time house monster. Using clever samples, driving jackin beats and cutting up the sax for a memorable club cut that every house head needs!
Joshua Heath then takes us on a sleazy tech house journey with his 'Heath's Milk Was A Bad Choice Dub'. While offering a nasty bassline and trippy vocal reworks, this one is a must for those amongst us that don't mind getting a little sideways. 
With a funky 'Random Soul Dub' rework and an extended DJ friendly mix, this is an all round beefy single that helps remind us all that; If it's time to funk, then it's time to dance!