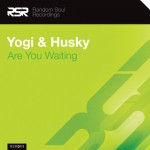 After huge success on their 3 EP's for Miguel Mig's Salted label and 2 EP's on RSR, it is time for Yogi & Husky to unleash another dance floor rocker for the underground heads. "Are You Waiting" has a deep, addictive vibe surrounding it and has already been getting killer reviews every time they've dropped any of the 3 rocking versions.
The original mix is an ever-building deep house gem with a big room sound that boasts intricate changes throughout the track. However it never strays from the groove that locks you in from the moment you hear the bass drop. With a hook vocal that most girls can relate to, we expect everyone will be singing "Are you Waiting, It's on you!"as they dance their pants off. This is sure to be a chart topper amongst the bigger dj's around the world, so get on it and get smashing it in your sets!
Random Soul proves their sound is ever evolving with a nu-disco/classic house version of the hooky vocal. Their mix is pure filth with a piano part that takes you back to the early 80's, Levan style.. The swing is just right on this dance floor menace, so try NOT shaking your ass to it.
Wrapping up in style, the duo give us a funky and jacked up mix. Another of their favorite sounds, this is peak time and will be destroying any amped floor it takes on. Muted piano, atmospheric pads, glitchy leads and a thumping bass line take care of transporting you to 5am in a sweaty dark club.
So…"Are you Waiting, It's on you!"