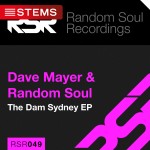 Amsterdam native, Dave Mayer, was recently touring through Australia and stopped by the RSR HQ in Sydney to crank out some tunes with label bosses, Yogi & Husky. This 2 track EP is the result of their summer sessions in Sydney.
First up is 'Joe Song'. It is a deep and soulful groover which features mesmerising chords, synth swells, clever vocal samples and classic sounding drums. It all combines to deliver the experience of a classy deep house tune that you'd come to expect from Dave Mayer & Random Soul.
Next up is 'Sydney To The Dam'. This cut goes a little deeper with some old school house influences. A driving garage bass mixed with vocal cuts and futuristic synth plucks take this one into the modern era. Plenty of club vibes on this one, bouncing all the way past 3am for any late night ravers.
"The Dam Sydney EP" at your service.
Available at Traxsource in STEMS
Coming Soon to Beatport
Coming Soon to iTunes