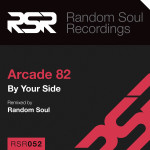 We are very excited to present this hot new release from Dubai based duo, Arcade 82. They have had recent successes on labels like Spirit Soul, Night Grooves & Deepalma and are now bringing their sound to RSR.
'By Your Side' is a lush slice of deeper house, using intricate lead melodies, driving bass, atmospheric pads and Shyam's own amazing vocals. This is a perfect record for summer pool parties and warming up those winter clubs. We were hooked from the moment we heard it and we hope you love it as much as we do.
On the remix, label bosses Random Soul, take us back to their classic soulful sound. Stripped back live bass and rhodes melodies melt around the effortless vocal to create one of their finest remixes to date. Complete with strings and horns, this is one tune you'll have on repeat, as it stands tall as a future classic house record.
Buy It, Stream it, Love it.