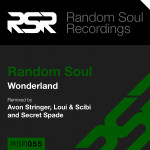 For our 55th release (and first for 2017) we are stoked to have a fresh single from label bosses, Random Soul! They return to RSR with a huge vocal tune entitled, WONDERLAND. It has all the Random Soul flair and the hallmarks of soulful music, but combines with bigger club elements into a melodic masterpiece that is ready to get you moving.
First up on the remix package is Sydney based Avon Stringer. Best known for their chunky underground house vibe, this remix definitely hits the spot! With lashings of lush chords and a driving, hypnotic bass line, it's ripe and ready for sunsets in Ibiza.
Next we welcome Polish exports, Loui & Scibi, who have offered up a funkier and synthetic touch on the original. Thick bass treatment, rising arps and big piano chords in the break lift this one into a 'hands in the air' finish.
Rounding out the package is a Secret Spade remix. New to the scene and hailing from Sydney too, they bring a fresh take on the original and take things a little deeper. They have chopped up the vocal phrases and brought in some moody pads and a BIG bass line to culminate in a deep dance floor monster. This one rounds out a great vocal house package nicely.
4 distinct versions for you to explore, all of which offer a unique experience.
We wanna take you to Wonderland!